From €16.00 psm inc vat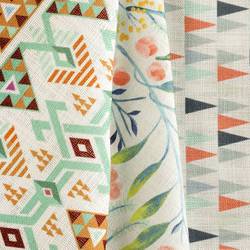 Spoilt for choice? Try it out!
Try it before you buy!
Click here to order a 21cm x 15cm sample
>Fabric Reality Check! Please allow a degree of shrinkage per fabric due to the processing techniques required to make a great print. The shrinkage degree varies fabric to fabric but can be as much as 8%. Average 2.5 %. We do not use Pantone colours or offer any colour matching but we do have great colour ability (we are pretty good/accurate on pantones). There are occasional variations in fabric weave that are a characteristic of textiles and should not be classed as defective unless extreme. Each textile can have minor colour variation from one to another. It is unlikely to be a true likeness to compare your screen or your printer output to printed fabric unless you have a calibrated monitor, and there are fabric printing limitations to take into account.
Swatches and Samples
When uploading an image into our A size sample preview your image will be resized to fit the A size you have selected.
If you upload a very large file it will be reduced to the size of the sample ordered. If you require a crop at actual size we recommend you size your file before uploading to ensure the dimensions are not changed. As these sample prints are small we do not recommend uploading files larger than 5mb. We can make your samples at these sizes:


A5 = 14.85cm x 21cm
A4 = 21cm x 29.7cm
A3 = 29.7cm x 42
A2 = 59.4cm x 42cm
A1 = 59.4cm x 84.1cm
Your fabric sample is sent "As it is" which means that when your sample is printed we will loosely cut around the edges. Therefore the print that you will receive will be the entire fabric piece with your print on it, and a potential small border of the plain fabric around the edges.
For main fabric printing orders go here. See more in depth details about the specific textiles on the dedicated fabric information pages here
Contrado Imaging - Who Are We?
Manufacturer of photo gifts, custom products, and printed textiles. Since 2003 we have developed our own range of products and built a production facility serving the consumer, designers as well as industry.
Click here to view our entire print on fabric range.
Fabric Print Offer
*voucher cannot be used for test prints or samples. Minimum spend: $50.